Date: 20/11/17
Does your door have 3-star security? Our doors are tested to the utmost of standards and offering ultimate defence against bumping, drilling, snapping and picking. For a homeowner, one of the main worries spoken about is how an intruder can gain access to their property. Here at ERA our cylinders are recommended by the neighbour watch. Over 73% of burglars successfully gain access through a door that is inadequately secured.
With the locks, handles and hinges our range offers, we can together secure the future of homes. ERA have over 175 years of manufacturing, innovation and design, and have been securing Britain's homes since 1838.
Is your door invincible? Our locks are reinforced with five times more metal than your normal cylinder lock- meaning it can't be snapped. Our locks contain 6 high security pins, ultimately, leaving it anti-drill, anti-pick and anti-bump resistant. The robust shape of the lock is a strong visual deterrent to any would be thieves. Knowing your lock is that secure would add peace of mind for you and your family when your home is unoccupied.
We operate one of only a handful of centres in the UK that tests doors and windows and is accredited by UKAS, the United Kingdom Accreditation Service. This means that we're approved to independently test to PAS 24 certification- the UK's gold standard for door security.
For all enquiries regarding the security of your home, our knowledgeable team are on hand to answer any questions you may have, don't delay, contact our helpline today on 01922 490 050.
0 Comment
---
Blog Archives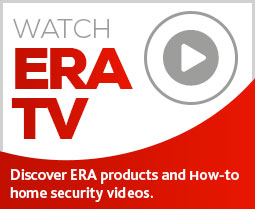 Subscribe to ERA news
Keep up to date with the latest home security news, products and updates with the ERA home Security newsletter.