Date: 24/09/18
We're in a new generation of smart home security and technology, which looks to make protecting your home easier for your family by giving you remote access to your alarm systems via your mobile phone.
If you have a smartphone, you can benefit from several smart security alarms and devices from ERA, which are easy to set up and even easier to use. But beyond the standard alarm systems and security cameras, there is one piece of technology that every concerned homeowner should invest in.
The ERA DoorCam Smart Home WiFi Video Doorbell allows you to answer your door from anywhere using your smartphone. It's easy to set up your new door system using ERA's smartphone app, and from there, you'll have a 180° field of view with video in 720p HD resolution.
This video doorbell is unlike any other that you'll have seen before. Not only does it act as a smart security camera that allows you to view the area outside your house even when elsewhere, it uses bank-grade data encryption technology for extra security. You'll be up and running within moments, with a system which doesn't cost the earth to give you superior technology. And the best part? You don't ever have to venture near the door to see who's ringing your video doorbell – nor will the person outside be able to tell you can see them.
If you're interested in finding out more about this innovative video doorbell, visit the product page here: DoorCam Video Doorbell.

0 Comment
---
Blog Archives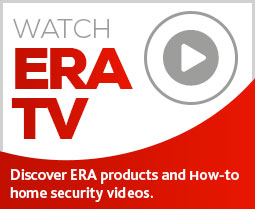 Subscribe to ERA news
Keep up to date with the latest home security news, products and updates with the ERA home Security newsletter.