Date: 30/03/17
We are big believers in keeping all of your property safe here at ERA. Home security isn't always just about how secure your doors and windows are throughout the main building you live in, it can also be about securing any outbuildings that you may have access to.
There can often be extremely valuable items left in outbuildings, and it might be a space that you use for a variety of purposes. A garage can be used to park your car, or to house a home gym, a shed can be host to plenty of expensive tools and equipment, and outbuildings can also be used as office spaces or games rooms. Having the right security in place is crucial, and a padlock could be the answer if you choose wisely.
ERA offers a range of padlocks, ideal to secure outbuildings at your home. It all depends on the level of security you require as to which padlock you should purchase.
Standard
Standard padlocks can be used to lock a cupboard door or suitcase, or for an outside gate. It is worth considering for outside applications a weatherproof padlock.
High Security
If you want to protect belongings in your garage, or have expensive equipment in a shed, this could be the padlock for you, with a high security lock and hardened shackle to protect the padlock from attack.
Professional Security
Heavy duty padlocks to fend off burglars who may find more time to try and break in due to the seclusion of the outbuilding in question.
If you're worried about the security of your outbuildings, we can offer advice on a wide range of home security measures, as well as pointing you in the direction of the correct padlocks for your specific requirements.
0 Comment
---
Blog Archives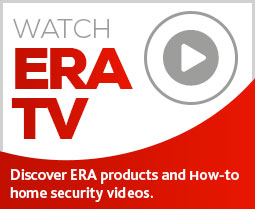 Subscribe to ERA news
Keep up to date with the latest home security news, products and updates with the ERA home Security newsletter.