Date: 27/03/17
A home improvement project takes real dedication, time and a little money whichever way you approach it. Upon completion it can be one of the most satisfying feelings to know you have improved your home aesthetic, but it is also the perfect time to consider upgrading your home security.
Whenever you are upgrading a section of your home it is the perfect time to consider how your doors and windows are protecting you from intrusion. There are a few things to think about, including their thermal performance to maximise the cost-effectiveness of the way you heat your home, the design of course, but also how they perform in terms of security.
Whether you are fitting brand new windows and doors as part of a refurbishment project, or wish to upgrade your current fittings, think about the following:
Enquire About the Quality
If you are fitting new windows the glazing company should be able to immediately inform you of the security performance of your new doors and windows, and whether the locks are Kitemark and PAS24 approved.
Easy to Use Safety Features
Have in place locks that you know to be as secure as you can purchase, but that are also incredibly simple to use on a day-to-day basis.
Add Additional Locks
It is always handy to add further locking mechanisms to windows and doors that you wish to have a bit more control and tighter security over.
Upgrade the Front Door
Upgrading the cylinder on your front door lock will significantly reduce the risk of a break-in through the front entrance.
Our home security experts at ERA are here to help. We believe that there are always a number of options to make your home safer, and if you'd like to find out more about how we would help you specifically, contact us today. Home security should never be a short-term fix, and we can advise on all aspects of your current home security approach.
0 Comment
---
Blog Archives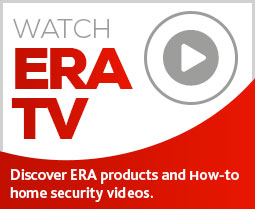 Subscribe to ERA news
Keep up to date with the latest home security news, products and updates with the ERA home Security newsletter.