Date: 14/06/18
ERA Blog June 2018
This is normally the time of year when I start to get very twitchy. Lots of deep sighing and rubbing of eyes, everything starts to ache a bit and the spring in my step has definitely sprung. Not being particularly well organised when it comes to my own time off, actually booking a holiday away is pretty much always left to the last moment, if it happens at all - actually not at all for the last 5 years. When it does happen it is generally at the point when I am so desperate for a break I am reduced to crawling around the house on all fours and falling asleep every time my bottom hits a chair or indeed I just stop moving. My daughter once found me asleep on the stairs!

It probably stems back to my policing days, it could be really hard to get time off some years and I always gave priority to my colleagues who had families. I suppose I had the energy then to just keep going until the opportunity arose - usually in March or October, not the best times for soaking up the sun. Listening to recent stories of officers in the Metropolitan Police being owed a total 220,000 rest days due to constantly having them cancelled, took me right back. I am not sure the public realize that when a Government Minister or senior police officer says "we're putting more resources and extra officers" into a particular problem - it does not mean that there are 'extra' officers, they just cancel the rest days and annual leave of the ones they have already got! Not very popular with either the officers or their families as you can imagine.

Anyway, this year was going to be different. For once I actually blocked off a 2-week period in my diary several months ago, and resisted the normal temptation of the self-employed to just 'pencil you in' when someone asks about my availability. So I have told everyone who needs to know that yes, this year I really am off to sunnier climes - nothing is going to stop me, I need a break away. Except, well you guessed it - something has come up. Whilst I love and respect the NHS and all who serve in her, their timing this year is awful. It turns out I need an operation on the nerves in my left foot and the date they want to start taking lumps out of me is, of course, right in the middle of my break. So once again a staycation is on the cards.

On the bright side I don't have to find new ways of keeping the house plants alive - they generally always turn their toes up and die as soon as I leave the house for more than a couple of days - incarcerate the dog in the local kennels, cancel supermarket shopping orders, chat up and bribe my neighbours to take in any parcels, push letters through the letter box, and keep an eye out for suspicious characters. Then there is the rigmarole of setting lighting timers so it always looks as if someone is in, not to mention turning off everything and I mean everything. Strangely my family still balk at turning off the broadband it's as if it has some hallowed place in their subconsciousness - if you turn it off it somehow will never work again. Anything but that! When you consider all that, and more, it is a wonder why any of us go away at all. But let's face it, nothing beats the feeling of soft sand in your toes, the sound of waves crashing, warm sun on your back, cocktails by the pool and someone else doing the cooking and cleaning! So it is all worthwhile to know that whilst we are relaxing, some horrible burglar isn't rifling through our belongings and stealing our treasures.

Surprising then that so many people still post their intention to escape the rat race - full dates, duration and location unbelievably - on social media. I have lost count of the number of times I have seen on Facebook, someone 'checking in' to an airport announcing their absence to the world - and the emptiness of their home! Hopefully they left home that day securing the front and back doors, checking the window locks are all secure, possibly even shed and garden gates, setting timer lights etc, so at least they may put off an opportunist who just happens to be passing by. Ultimately if you do insist on broadcasting your exotic trip then for your own peace of mind, you may consider a house alarm to give you that much more protection and peace of mind.

These days you can reduce your risk of burglary - and in turn your insurance premium - by spending quite small amounts of money (particularly when you consider the cost of your holiday and the contents of your home) on simple wire free alarms which are easy to install and put off the passing burglar and social media trawler alike. The ERA website has some great options for all pockets.

As for me, well I am determined to have a break of sorts, a box set of Game of Thrones, a pile of take-away menus, bottle of wine in the fridge, a happy dog, and no packing mean it may not be so bad after all.

0 Comment
---
Blog Archives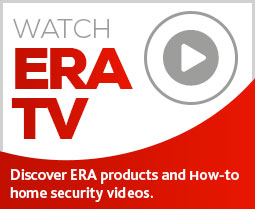 Subscribe to ERA news
Keep up to date with the latest home security news, products and updates with the ERA home Security newsletter.