Date: 10/06/18
While some people are wary of the 'smart' world and its dominance over standard technology, it's easy to see just how effective smart technology has become. It helps us do everything from manage our home temperature to turn on the shower from the comfort of our own beds.

More importantly, though, it offers us a new and far more modern means of security. While in the past people would use PC-connected CCTV at home for added security, it had obvious limitations which were a challenge to overcome.
With modern smart home security solutions, you can:
Easily see who is at the door whenever you want and let them know you can see them.
See and be alerted to potential intruders and contact the authorities if needed.
Check up on your children or the condition of your home even when on holiday.
Add an extra sense of protection from intruders, and ward off potential break-ins.
Strengthen modern best practice for security whilst meeting insurance needs.
Offer better protection all-year round with easy alerts and notifications of intrusion.
Save huge amounts of money on the setup and installation fees for smart home security.
Add to the value of your home and make your property safer to all.
With the right kind of smart home security solutions, you can make a huge difference to the way your home works. From making it safer, to helping to ensure you can do everything to jump through the various hoops insurance companies ask of you, this can add peace of mind both in terms of safety and in terms of finance.

0 Comment
---
Blog Archives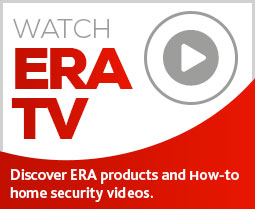 Subscribe to ERA news
Keep up to date with the latest home security news, products and updates with the ERA home Security newsletter.