Date: 16/02/17
Adding to your home security isn't just about a solid alarm system. One of the ways in which you can secure your home is to think about the strength of your front doors and the type of locks that you have chosen for them. At ERA we have a range of locks designed to deter potential burglars through a complex design to harden security.
Firstly take a look at the type of doors you have. Choosing a lock should be about complementing the existing door, as certain locks won't fit with some doors. You should also consider the level of security you think is required for your home, with different levels of secure locks available. You should also consider your insurance policy and whether you are required to have a certain level of lock and security in order to make a claim in the event of a break-in.
Two Cylinder Door Security
ERA Invincible or the ERA Fortress are two cylinder options for UPVC doors that ERA Home Security have on offer to add another layer to your home security options. Choosing the right lock for your home is an important decision to get right, and if you'd like to speak to our team of friendly customer service agents, they'll be more than happy to discuss your options. We understand how important your home security is, and will do everything we can to secure your locks and the entrances to your home.
0 Comment
---
Blog Archives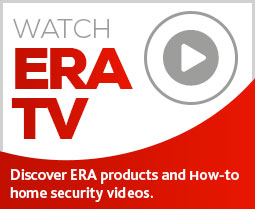 Subscribe to ERA news
Keep up to date with the latest home security news, products and updates with the ERA home Security newsletter.