Date: 19/07/17
At home there may be parts of the property that require a little extra security. Whether that is a cupboard that holds important and sensitive personal and financial information, a garage or outhouse that you think needs a little more security than an average lock, or a door to the attic or basement for purely security and safety reasons.
ERA offers a range of domestic padlocks suited to a variety of uses and with a visual security rating system for each padlock you can ensure you have one you need for the application.
We have developed our padlock range using Molybdenum stainless steel, offering a smooth surface finish but more importantly an enhanced corrosion resistance. This is why this type of stainless steel is used within the manufacturing process of aircrafts, missiles and within the power industry.
Not only that, but many of the padlocks in the domestic range have shackles made from hardened steel, protecting from sawing and cutting and the dual stainless steel ball bearing locking mechanism adds another layer of security against potential pull attacks.
From brass, laminated and weatherproof key operated padlocks, to brass and black combination padlocks; ERA have the choice whether you require standard or high security. Speak to our team of experts for advice on the right type of domestic security padlocks for your specific needs.
0 Comment
---
Blog Archives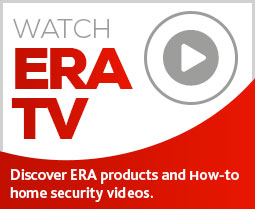 Subscribe to ERA news
Keep up to date with the latest home security news, products and updates with the ERA home Security newsletter.