Date: 14/05/18
For anyone looking to make life at home feel more secure, installing the right home security system is very important. With so many options on the market, choosing the ideal home security option for your own needs can be quite tough.
If you would like to get a better idea of which home security solution is best for your family, then consider the following:
ERA Homeguard Pro. The Homeguard Pro is a popular model, providing the user with a fully integrated cloud based smart home alarm system. The HomeGuard Pro is more than just a home alarm system, with this smart home alarm, you can monitor multiple locations, choose who can access your home and revoke this access whenever you want. The ERA HomeGuard Pro also has a personalised alert log, which shows you who has accessed your property. With countless other benefits, the ERA HomeGuard Pro offers a comprehensive home security solution.
ERA Invincible. Another popular model is the ERA Invincible, a solution that offers you an easy to use alarm system with remote monitoring, LCD control panels and wireless alarm and alert system, including push notifications of who armed and disarm the alarm, intrusion by zone, power failures/recoveries and personalised alerts.
ERA DoorCam Wifi Video Doorbell The video doorbell camera has a 180° field of view, records in crystal clear 720pHD resolution and you can access video on demand with Live View. The ERA DoorCam Smart Home Video Doorbell allows you to answer your door from anywhere using your Smartphone. You can check who is calling without answering the door, a great security solution. The DoorCam video doorbell also stores recordings, should the worst happen and an intruder break in. It's also ideal for convenience, speak to a delivery driver whilst you are at work and let him know where to leave your parcel. A home security solution with multiple possibilities.
Looking at the above, you should find it much easier to start make an informed decision when choosing with regards to the best home security system for you. Each system offers multiple security benefits; which will you choose?

0 Comment
---
Blog Archives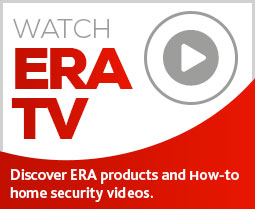 Subscribe to ERA news
Keep up to date with the latest home security news, products and updates with the ERA home Security newsletter.