Date: 07/12/15
The invention of the dead bolt saw a significant drop in burglaries across the country in the 1960's, the kite marked multi-point door lock is a modern system that adds a new founded security to your home. Not only will it offer complete peace of mind, it is impossible to tamper with, meaning that your house and its possessions are safe. However there are several things you can do to improve your home security.
Move any visible expensive belongings from sight even if you have net curtains. In the evening always close your curtains or blinds, it simply adds that extra layer between the outside world and your home.
Leaving a light on in the hallway or a lamp in a sitting room will make it look like there is someone in the house. Don't leave obvious signs of an empty house. Be extra diligent this time of year too, the Christmas tree may look beautiful with parcels underneath but that is just a gift waiting to be unwrapped for a thief. Keep all presents out of sight or move the tree somewhere that isn't visible to anyone outside.
Get to know your neighbours, studies have shown that areas that participate in neighbourhood watch schemes are less likely to suffer from burglaries. This should be exactly the same if you live in an apartment building, there may only be one entrance into your flat, but knowing who lives around you will mean that anything abnormal will be detected sooner.
0 Comment
---
Blog Archives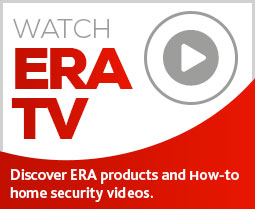 Subscribe to ERA news
Keep up to date with the latest home security news, products and updates with the ERA home Security newsletter.