Date: 07/12/15
Home security should be top priority for everyone, sadly there is always an increase in burglaries during the winter months so making your property safe for you and your family is paramount this time of year.
So what steps should you take?
Burglar alarms obviously work their own magic at deterring theft, however you should look at every area of your home and work out any other entry points such as doors and windows. Can the safety of these be improved at all? Extra window and door locks will make these areas less vulnerable.
Is your home exposed? Many burglars will scout the property before hand to discover where the easiest entry and exit points are. If your home looks continually occupied then this can be off-putting. Are there any obvious places that someone could hide and not be seen? Hidden access points can make great entrances for a thief. Think about installing security lights and a decent alarm system in these susceptible areas.
Purchase a burglar alarm system and when it is installed make sure that it is visible to any passer-by, this will put off anyone wanting to break and enter your property. It is also possible to get fake alarm boxes, but nothing will give you better peace of mind than the real thing. There are many different varieties on the market so it is worth obtaining professional advice on which security system is right for your needs. We offer a home security survey to give you piece of mind. Call us today on +44 1922 490 000 for further information.
0 Comment
---
Blog Archives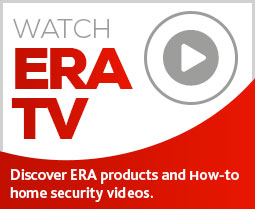 Subscribe to ERA news
Keep up to date with the latest home security news, products and updates with the ERA home Security newsletter.