Warning!
Success!
Read interesting news stories and advice articles from ERA's team in our News. If you have any suggestions of topics you would like us to cover please contact us and let us know; or you have a specific question why not ask one of our ERA Expert's for help.
03/03/15
In the same year the glazing industry voted ERA as Component Supplier of the Year at the G Awards, ERA has also been awarded Investors in People (IiP) accreditation confirming ERA's dual-commitment to its customers and its people. Read More
25/03/15
Black Country Living Museum's Willenhall-based Locksmith's House has recently announced support from local home security company ERA. Read More
04/03/15
Willenhall based lock manufacturer ERA which employs over 350 people has kick-started its annual fundraising in aid of The Sick Children's Trust with the intention of raising £10,000 in 2015 Read More
19/03/15
Over the last four weeks over 70 members of the MLA have taken part in focus groups carried out by our MLA Expo partner ERA. The purpose of the focus groups was to enable ERA to develop the MLA/ERA Approved Partner scheme which is being launched thi... Read More
Blog Archives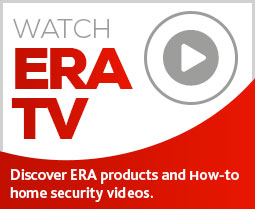 Subscribe to ERA news
Keep up to date with the latest home security news, products and updates with the ERA home Security newsletter.