Date: 19/03/15
Over the last four weeks over 70 members of the MLA have taken part in focus groups carried out by our MLA Expo partner ERA. The purpose of the focus groups was to enable ERA to develop the MLA/ERA Approved Partner scheme which is being launched this year ahead of the Expo.
ERA group marketing director Will Butler explains the backdrop to this initiative: "we've set out our commitment to the MLA quite clearly in terms of our sponsorship of the Expo but our support runs far deeper than the Expo alone. We have a very firm commitment to get ERA back into Britain's homes and to do this we wanted to partner with professional members of MLA that share our love of this industry, its heritage and values.
"The feedback from the focus groups has been essential in terms of us shaping a partnership programme that meets the needs of MLA approved company members both in terms of product suitability and indeed, the appetite towards an increased number of home security surveys. As a result we are now in the final stages of developing a robust partnership programme that will be backed by a strong social media presence and consumer campaign across leading home improvement magazines.
As part of this initiative ERA commissioned consumer research amongst 1000 home improvers to better understand attitudes towards improved home security. Will talks us through the findings: "we really wanted to gauge consumer attitudes towards improving home security – but critically we wanted to understand whether people see this is a DIY job or a do-it-for-me job. Over three quarters (86%) of respondents would improve the security of their home and almost 70% said they would be more likely to upgrade their locks if they could find a reliable, accredited and affordable service. This unbiased data has really helped to shape our thinking and further strengthens our commitment to supporting the MLA. In reality, a totally secure home can only be delivered by a qualified and experienced locksmith with the knowledge and capability to identify vulnerable points around the home and provide solutions for the homeowner – this message will underpin our launch campaign later this year."
0 Comment
---
Blog Archives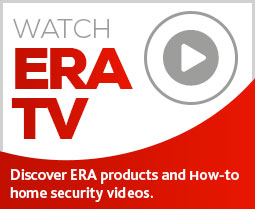 Subscribe to ERA news
Keep up to date with the latest home security news, products and updates with the ERA home Security newsletter.