Date: 19/12/17
It pays for you to secure your home. Protecting your family starts by protecting your home. Burglars look for easy pickings, don't let your home be an option. With so many different home security products, ERA home security are here to assist you in resting assured that there are ways to improve the security in your home. Burglaries can take place anytime of the day or night, in Winter or Summer.
Why not consider a FREE ERA home security survey? ERA have partnered with the Master locksmith association to launch free, home security surveys.
If you're not going to be home all day, why not install simple and cost-effective timers on lights throughout. This will hopefully deter burglars away
Ensure that all your window and doors locks meet the current standards. ERA locks use 3-star British standard cylinders. They are tested to the highest standards and will offer the ultimate defence against any kind of damage including, snapping, drilling or picking.
Install outside lighting. The security of your home is highly important. Why not invest in lighting that is motion sensored, this will trigger if a burglar came within close proximity of the pathway or front door.
Get to know your immediate neighbours. If you're going to be away from home for a long period of time. If you know your neighbours well and build a trusted relationship, they can keep an eye out whilst your away. They could help by pushing your post through the door, and maybe give them a spare key so they open and close your curtains to make it look like someone is home.
0 Comment
---
Blog Archives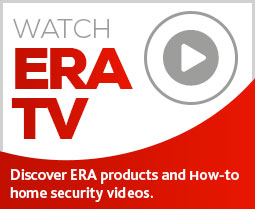 Subscribe to ERA news
Keep up to date with the latest home security news, products and updates with the ERA home Security newsletter.