Your search for 'cá cược bóng đá online m88【0242.com】cá cược bóng đá online nạp thẻ điện thoại' found 100 results.
---
Introduction Burglary is something that concerns us all – wherever you live in the UK. But the chances of a burglar smashing glass to gain entry to your property is fairly slim when you look at the statistics. As many as 70% of...
---
Additional Window Security Additional window security provides peace of mind for anyone that wants extra security for their home. ERA have a range of Sash Jammers, Snap Locks, Swing Locks and Bolts in various different finishes from...
---
Tips and Warnings Burglars break into a home every 15.4 seconds according to statistics. It's the most common threat to your home security, with 67% of all burglaries through a door! With some minor changes, you can protect your home...
View Buying a new door - What can you do?
---
ERA TouchKey is a complete door security solution for any new composite or timber door. Combining ERA's mechanical security expertise with the latest smarter technology, TouchKey offers you multiple new ways to access...
---
Welcome to The ERA Security Installer Lead Dashboard This dashboard enables you to see the number of leads that have been generated by ERA in your area. To update your profile and supporting documents please visit the My Account...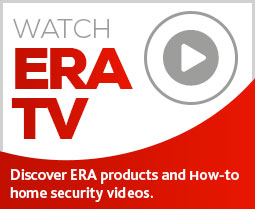 Subscribe to ERA news
Keep up to date with the latest home security news, products and updates with the ERA home Security newsletter.