Your search for 'cá cược bóng đá online m88【0242.com】cá cược bóng đá online nạp thẻ điện thoại' found 100 results.
---
Whether you're having a complete home makeover, new extension or even new windows and door – it's a great time to think about improving the security of your home. If you're replacing your windows and doors as part of...
---
General For PVCu doors periodically, wipe the frame and sill with warm water and a mild detergent to remove any surface grime. Difficult stains may be removed using a gentle cream cleaner. For composite doors maintenance is normally minimal...
View How do I maintain my doors?
---
ERA provides you with the smoothly operating balances and gearing for sash window systems, plus hardware and accessories that comprise the well balanced, modern sash window. Traditional sash windows have a reputation for rattling,...
---
Introduction Locking mechanisms on doors are varied and it can be difficult to judge whether what you have is good, bad or indifferent. This information takes you through the common types of door locks for PVCu doors. Ultimately what you...
View What locks do I have - PVCu
---
Burglary can happen anytime day or night, winter or summer but the latest crime figures published show that the number of burglaries rises in the months of November through to January. And while we generally keep our windows and doors closed and...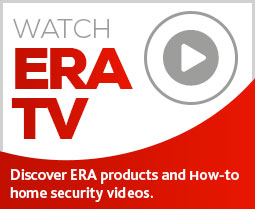 Subscribe to ERA news
Keep up to date with the latest home security news, products and updates with the ERA home Security newsletter.