Your search for 'cá cược bóng đá online m88【0242.com】cá cược bóng đá online nạp thẻ điện thoại' found 105 results.
---
One system, one smartphone app, with a multitude of capabilities and features that empower you to own your smart security from start to finish. That's ERA Protect > > > Expect more from your security, we...
View ERA Protect Smart Security
---
Stuart Jones Stuart started at ERA in April 1975 making locks, until 1980 when he became a bench locksmith and in 1988 moved to Quality. With a great deal of knowledge of locks and security Stuart is one of our Experts who helps homeowners...
---
Testing beyond salt spray We know that when a door or window looks great, it needs to stay that way, so it's imperative our products lead the way in anti-corrosion and performance standards. The key to this enhancement...
---
ERA E1000 Wireless Door Intercom System The ERA E1000 Wireless Door Intercom system allows you to conveniently answer your doorbell and speak with the visitor within the comfort of your home. With no...
View ERA E1000 Door Intercom System
---
Schlegel seals are the industry's first choice for weathersealing. Whether you need foam, brush pile or extruded seals, they all are manufactured to the highest quality for energy conservation and optimal...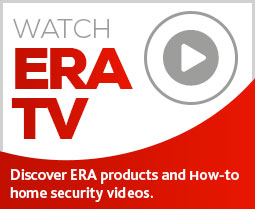 Subscribe to ERA news
Keep up to date with the latest home security news, products and updates with the ERA home Security newsletter.