Your search for 'cá cược bóng đá online m88【0242.com】cá cược bóng đá online nạp thẻ điện thoại' found 105 results.
---
General For PVCu doors periodically, wipe the frame and sill with warm water and a mild detergent to remove any surface grime. Difficult stains may be removed using a gentle cream cleaner. For composite doors maintenance is normally minimal...
View How do I maintain my doors?
---
Tips and Warnings Burglars break into a home every 15.4 seconds according to statistics. It's the most common threat to your home security, with 67% of all burglaries through a door! With some minor changes, you can protect your home...
View Buying a new door - What can you do?
---
Introduction Locking mechanisms on doors are varied and it can be difficult to judge whether what you have is good, bad or indifferent. This information takes you through the common types of door locks for PVCu doors. Ultimately what you...
View What locks do I have - PVCu
---
Welcome to The ERA Security Installer Lead Dashboard This dashboard enables you to see the number of leads that have been generated by ERA in your area. To update your profile and supporting documents please visit the My Account...
---
Our Purpose We transform the security, comfort and sustainability of living and working spaces through our expert touch. Millions are kept safe and comfortable at home and at work around the world because of our expertise. We...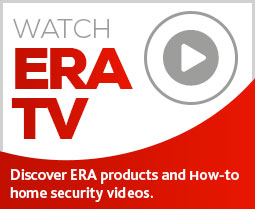 Subscribe to ERA news
Keep up to date with the latest home security news, products and updates with the ERA home Security newsletter.