Your search for 'cá cược bóng đá online m88【0242.com】cá cược bóng đá online nạp thẻ điện thoại' found 105 results.
---
Introduction Burglary is something that concerns us all – wherever you live in the UK. But the chances of a burglar smashing glass to gain entry to your property is fairly slim when you look at the statistics. As many as 70% of...
---
Introduction Manipulating the cylinder on a main entrance door - or 'bumping' - is a common form of gaining access to a property. Fortunately, it's a simple DIY job to upgrade to a secure cylinder that clearly shows...
View How to choose and change your cylinder
---
The only security guarantee recognised by the Neighbourhood Watch. Door and window security is complicated. It takes the right package of hardware, expertly fitted to bring total security to your home. Through knowledge built over 175 years...
---
Introduction Mortice locks are available as either a deadlock or sashlock. A deadlock is operated by a key only; and a sashlock has a deadbolt sprung latch bolt that catches when the door is closed. A handle is required to operate a sashlock....
View How to change a Mortice Lock
---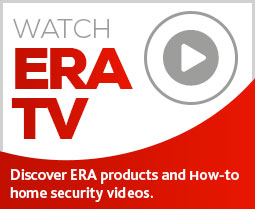 Subscribe to ERA news
Keep up to date with the latest home security news, products and updates with the ERA home Security newsletter.