Your search for 'cá cược bóng đá online m88【0242.com】cá cược bóng đá online nạp thẻ điện thoại' found 105 results.
---
This statement outlines ERA's commitment to ensuring the health, safety and wellbeing of our employees and those people and communities who may be impacted by our activities. Our number one priority is to ensure that...
View ERA Safety, Health & Environmental Policy
---
30 years ago, we launched the industry's first range of perfectly matching hardware, Fab&Fix. We understand that when it comes to decorative hardware, attention to the finer details such as colour, style and surface finish is vital for...
---
Introduction Typically handles used on casements windows are a more traditional Cockspur handle or an Espag handle. A Cockspur handle secures the window by holding the sash and frame together using the nose of the handle and a wedge....
---
A hinge typically used on casements PVCu windows that incorporates an adjustable friction screw to adjust the opening resistance of the sash. Stays are sized to suit the dimensions and weight of the sash, and are fitted in pairs (top and...
---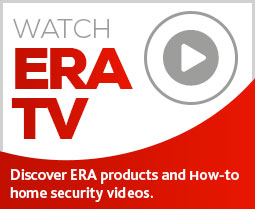 Subscribe to ERA news
Keep up to date with the latest home security news, products and updates with the ERA home Security newsletter.