Date: 21/09/15
Moving house can be stressful. But when you've moved into your new abode the last thing you should be thinking about is whether you're safe and secure in your new home. With that in mind we carried out a survey of over 1000 British homeowners and over 70% said they didn't even give security a second thought when they moved house. That certainly set our alarm bells ringing. That's why we've partnered with the Master Locksmiths Association to offer every UK homeowner a free security survey through our ERA Approved Partner scheme.
For example, one of most important things to do as you move into a new home is secure your front door. On average every UK property has at least six sets of keys in circulation – from cleaners, to gardeners, to babysitters to inlaws – you'd be amazed how many people have got access to your front door.
It can be a relatively simple job to replace the Euro cylinder on a PVCu door, but it's always best to get an ERA Approved Partner to do the job for you. They'll know exactly what size of cylinder you need and get it right first time!
Some doors might have a traditional Mortice lock and Nightlatch – these are fiddly jobs, so we'd always recommend you get a professional in to do this job.
But securing your front door is just one job and there's every chance your insurance company will be asking lots of questions about the security of your new home. Unless you're a lock expert it can be a minefield to work out if what you've got is up to the standard your insurer requires. But regardless of your insurer, it's always worth going 'above and beyond' the minimum standards to keep you, your family and your possessions safe. We'd always recommend fitting additional security devices that keep you safe without turning your house into Fort Knocks. So before you settle in and adopt the previous owners security measures – think about your own needs and take advantage of a free home security survey from an ERA Approved Partner.
0 Comment
---
Blog Archives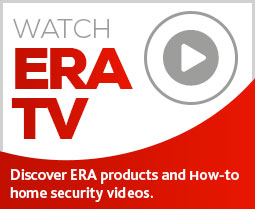 Subscribe to ERA news
Keep up to date with the latest home security news, products and updates with the ERA home Security newsletter.