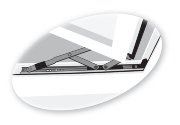 A hinge typically used on casements PVCu windows that incorporates an adjustable friction screw to adjust the opening resistance of the sash.
Stays are sized to suit the dimensions and weight of the sash, and are fitted in pairs (top and bottom). Friction stays can be supplied as standard operation, egress, easy clean and egress-easy clean combined variants.
Key industry terms
EGRESS
An additional feature of certain friction stays, which enables the sash to be moved to the edge of the window opening, to facilitate escape in an emergency situation.
Approved Document B stipulates that egress windows must have a minimum opening of 0.33m3 with a minimum dimension (width or height) of 450mm.
Egress stays are often used in conjunction with non-lockable handles.

EASY CLEAN
An additional feature of the friction stay that allows the sash of the window to be positioned to allow access to the outer pane of glass for cleaning purposes.

RESTRICTOR (FRICTION STAY)
An additional feature on a friction stay that limits the maximum opening of the window to prevent falling. The window can be opened to its full extent by activating a safety catch to override the restricting device.
The maximum restricted extent of opening will be determined by the dimensions of the window sash and stay length.

HINGE GUARD
A device, consisting of two folded plates, one of which is fitted to the sash, and one to the fixed frame element, that interlock when the window is closed, providing additional anti separation support to the friction stay.

END CAP
A fitting at the end of the main channel, which is positioned into the corner of the outer frame, into which the pointed top arm locates, when the window is closed. End caps can be cast, or rolled metal, or injection moulded plastic.
STACK HEIGHT
The vertical dimension between the main channel and the pointed top arm.
Different window systems will require different stack heights to accommodate for specific air gaps between outer frames and casements.
Help & Advice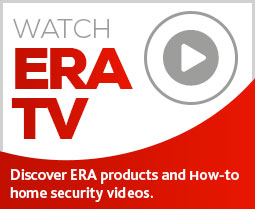 Subscribe to ERA news
Keep up to date with the latest home security news, products and updates with the ERA home Security newsletter.