Introduction
Before you can make an informed decision about upgrading the security of your windows it's useful to know exactly what you do have installed in your property. This simple guide takes you through the most popular UK styles of windows.
Skip to:
| Window Types | Window Locks | Window Hinges | Window Handles | Window Accessories |
Depending on the application and use there are several different types of windows fitted to properties here in the UK.
These types of windows will impact the locks, handles and hinges that are used so it's useful to know what type of window you have – we have listed the common ones below.

CASEMENT
A framed opening window, that is hinged or pivoted. Hinged windows can be side or top opening.
TILT AND TURN

Inward opening windows that are hinged, to open as a side hung window by turning a lever handle.
The sash can also be opened into a restricted ventilation position, tilting inwards at the top of the sash, with a partial turn of the lever.
SASH WINDOWS
Vertical sliding window with two sashes that operate independently of each other.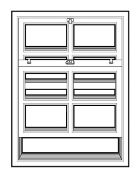 Sashes move up and down and hold their position. A tilt function can be built into sash windows that allows them to tilt inwards for easy cleaning of the external glass.
For more information on sash windows – see the separate guide in the 'ERA TV' pages of the ERA Expert website.
Key industry terms
OUTER FRAME

The perimeter frame section of the window.
SASH
The opening part of a casement or tilt and turn window.
TRANSOM AND MULLION
Fixed horizontal (transom) and vertical (mullion) frame section, that segregate the overall window into individual openings.
FIXED LIGHT
A non-opening section of the window.
REINFORCEMENT
A length of material, inserted into the hollow window profile (plastic) to provide additional rigidity, resistance to expansion and contraction and additional support for hardware.
Traditionally extruded aluminum or roll formed steel, non-metallic materials are becoming more common place e.g. extruded PVC (thermal inserts).
BACKSET
The dimension from the surface of the face plate to the centre line of the gearbox drive/spindle. For PVCu shootbolt and espag systems, this is typically 20mm or 22mm, depending upon the profile dimensions.
EUROGROOVE
A standard size feature within PVCu profiles, that accepts the locking hardware. The location of the eurogroove within different profiles will vary, hence the requirement for a variety of handle spindle lengths.
Help & Advice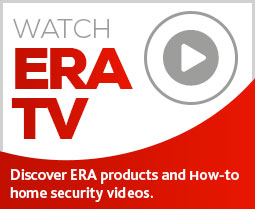 Subscribe to ERA news
Keep up to date with the latest home security news, products and updates with the ERA home Security newsletter.