Introduction

Typically handles used on casements windows are a more traditional Cockspur handle or an Espag handle.
A Cockspur handle secures the window by holding the sash and frame together using the nose of the handle and a wedge. Windows fitted with Cockspur handles don't have any other form of integral window lock.
Whereas an Espag handle has a spindle fitted into the back to operate a window lock (Espagnolette bar and Shootbolt).
Tilt and turn window have a different type of handle to operate.
COCKSPUR HANDLE
Fitted to the sash of a casement window, it has a nose (to the left or right hand) which engages with a striker wedge located on the frame to effectively secure the window.
Cockspur handles are usually available in several nose heights to allow for differing profile dimensions. Cockspur handles can be fitted to PVCu, timber and aluminium window systems.
ESPAG HANDLE
A lever handle with a turn, usually restricted to 90o, for the operation of espag and shootbolt window locks. Handles can be in line (straight) or handed (cranked) for improved aesthetics and ergonomics.
Espag handles will normally incorporate a push button to initiate the opening movement, which can be lockable or non-lockable.
TILT AND TURN HANDLE
An inline lever window handle that operates with a two stage movement for the operation of the tilt and turn functions. Tilt and turn handles are typically larger than espag handles.
Key industry terms
SPINDLE
A square metal shaft that passes through lock of the window. The spindle is connected to the lever of the handle so that when turned, the lock is engaged or disengaged.
Spindles are supplied in a variety of lengths to suit the varying position of the window lock and are usually 7mm square in 'width'.

Help & Advice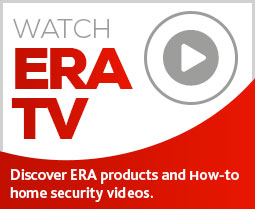 Subscribe to ERA news
Keep up to date with the latest home security news, products and updates with the ERA home Security newsletter.