Date: 27/08/20
When it comes to choosing a home security product for your home there are a few different things that you want to look out for. Every home is different of course, but there are some fundamentals that have to be in place to make sense for any homeowner. Here, we take a look at ERA Protect and how it could be the perfect home security solution for you.
Simple Solutions – We all want something that is incredibly easy to use. With ERA Protect you can access your home security solutions from an app on your smartphone. There you can access and analyse data and up-to-the-minute information relating to your home security.
Great Accessibility – As well as being incredibly easy to use on your phone, all information is sent straight to the cloud, meaning that you can access live video feeds and home alarm data from wherever you are, even if you are in another country. This brings great peace of mind.
Smart Integration and Security – All the information is stored in the cloud and integrated with your other smart applications and security in the home. ERA Protect has the ultimate level of security features and encrypted data, ensuring that your data is safe at all times.
Protecting your home is important. There are a wide range of home security solutions on the market today and finding the right one for your home and your budget is important to you. That is why the ERA team is always happy to discuss our broad range of security products and home alarms to find the right package to protect your home. ERA Protect is a comprehensive solution, bringing simplicity of use to a fully integrated alarm system that is accessible anywhere in the world.
For more information contact ERA on 01922 490 050 or email help@erahomesecurity.com.

0 Comment
---
Blog Archives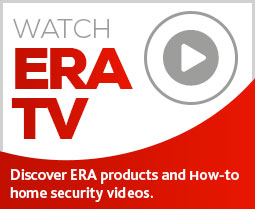 Subscribe to ERA news
Keep up to date with the latest home security news, products and updates with the ERA home Security newsletter.