Date: 22/11/20
When winter comes around, the nights get colder and darker, the days are shorter, and it just becomes a lot gloomier. If you have some outbuildings, such as a shed or a garage, it is important to look after the goods that you have stored in them. During winter especially, it can feel like your outbuildings are completely separate from the main buildings of your home, and can sometimes be not included in your smart alarm systems. How can you make sure they are secure during these long months?
One of the biggest things that you can do to secure your outbuildings is to buy the latest, sturdiest and most robust door locks that you can find. The ERA 3* cylinders are tested to the highest standard and take a lot of work for a burglar to break through them and gain unlawful entry. Another option would be to buy a sturdy padlock to add additional security to any inner corridors that link the main building to the outbuilding or to the main doors themselves, should you have a garage or shed that is separate.
Aside from physical security, those with smart alarm systems could link up their outbuildings to become part of the wider smart network, ensuring that all areas of the house and outbuildings are covered.
If you would like to find out more about the smart alarm systems we have in stock, and the high quality door and window locks, please feel free to contact us today on 01922 490 050 or help@erahomesecurity.com. You can trust in ERA to provide you with the best outbuilding security solutions on the market today.
0 Comment
---
Blog Archives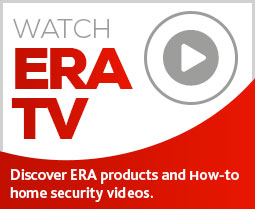 Subscribe to ERA news
Keep up to date with the latest home security news, products and updates with the ERA home Security newsletter.