Date: 13/05/20
Your front door security is so important. It might be the part of your home that you always assume will be alright, that a criminal is unlikely to try the front door and that your focus should be on other, maybe more hidden, areas of your home. This is not always the case, and with the right home security solutions you can ensure that your front door is secure as possible.
There are many different ways to improve your front door security with ERA, with the following two approaches the simplest way to achieve what you are looking for.
Front Door Locks
The locks you choose for your front door will have an impact in how successful they are in deterring a potential criminal away from breaking into your home. Our ERA 3* British Standard Cylinders are designed to withstand professional criminals. It is the ultimate barrier to snapping, picking, drilling and bumping. Alongside that, you could add night latches and mortice locks for that added front door security.
ERA DoorCam
This Smart Wi-Fi video doorbell is the perfect way to keep an eye on your front door area. Whether you want to speak to a delivery person whilst at work to make sure items are left in a safe place, or to check on that noise from outside when you're in bed at night, it is the easiest way to keep control and to stay safe.
For more information please feel free to discuss things with the home security experts here at ERA. You can do so today on 01922 490 050 or email help@erahomesecurity.com.
0 Comment
---
Blog Archives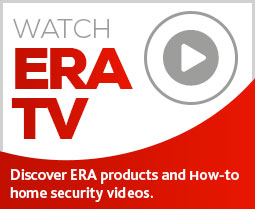 Subscribe to ERA news
Keep up to date with the latest home security news, products and updates with the ERA home Security newsletter.