Date: 18/05/20
At ERA we know that every single home is different. Your needs will be very different if you are a single person living in a flat on your own for the first time, than they would be if you are living with children in a larger house. This is why we have put together a comprehensive range of home security solutions that allows you to find the right products to protect your home.
Our experts in home security solutions are at hand to help you make a fully informed choice when choosing the type of product that you wish to buy and install to protect your home.
We have both mechanical and smart home security products to choose from. This means you can install the traditional hardware, robust locks for your front door and latches to protect your windows etc, whilst also taking a look at modern technology and how that can help you sleep easier at night.
Smart technology can be equipped in a video doorbell and camera or as part of a wider home alarm system that protects the entire home. What we guarantee is quality in both traditional and modern home security products, allowing you to make the most of experience and technology.
Alongside all of this, our team can also help you find a professional installer in your area if you feel like you would be better served installing the products this way rather than in a DIY fashion.
For more information please feel free to discuss things with the home security experts here at ERA. You can do so today on 01922 490 050 or email help@erahomesecurity.com.
0 Comment
---
Blog Archives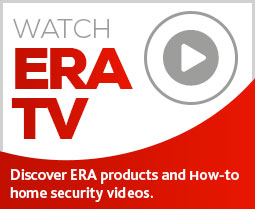 Subscribe to ERA news
Keep up to date with the latest home security news, products and updates with the ERA home Security newsletter.