Schlegel
Schlegel seals are the industry's first choice for weathersealing. Whether you need foam, brush pile or extruded seals, they all are manufactured to the highest quality for energy conservation and optimal sealing.

Foam Weatherseals
The unique Q-Lon seal has been developed in consultation with customers to offer the widest range of polyurethane (PU) foam seals possible for timber, PVCu and aluminium windows and doors, window covering products and interior design. The unique design has made Q-Lon the seal of choice for many applications.
Made with a unique combination of materials and with technical performance unparalleled by any other material used in seals, Schlegel Q-Lon offers the highest standard of sealing function – even under extreme conditions. Continuous research and development, as well as strict material inspection and quality inspections, have made Q-Lon one of the best established sealing systems in the industry today.
Pile Weatherseal
Schlegel have a long history of manufacturing an extensive range of woven brush pile seals and extruded sealing profiles with brush pile for various applications.

Early in the previous century, pile weather strips were developed for use in revolving doors. The first types were made from wool with a cotton backing (so-called wool pile). In recent years, demands regarding draught proofing and durability in the building industry have increased, and the products developed accordingly.
Schlegel
Sales & Information Telephone: +44 1462 815500
Email: sales
Website: www.schlegel.com
Address: Schlegel. Henlow Industrial Estate, Henlow Camp, Bedfordshire, SG16 6DS.
About ERA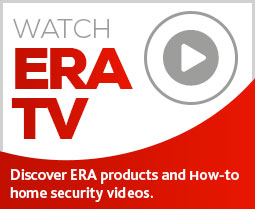 Subscribe to ERA news
Keep up to date with the latest home security news, products and updates with the ERA home Security newsletter.