Introduction
You can add further elements to your timber, composite or PVCu door to enhance the security.
Door Accessories

DOOR CHAIN/ RESTRICTOR
A device for the detachable connection of door to frame for the purpose of selectively restricting the amount a door can open, to reduce risk of attack when receiving callers.
Allowing the householder to establish the identity of callers, before fully opening the door. The device can be in the form of a chain, cable or rigid bar.
DOOR VIEWER

A device fitted into a door, with a lens creating a wide field of vision, enabling the householder to view callers without the need to open the door.
SECURITY BOLT

A simple mortice bolt, operated from the inside of the door only that is extended via a universal star drive key and wind mechanism.
Usually fitted into the top and bottom of the vertical edge of timber door sets to provide additional security for single point locks.
SASH JAMMER
A retrofit security device, fitted to the inside face of the frame of a door or window (usually PVCu), with a rotatable arm that extends over the sash of the inward opening door or window, providing resistance to the sash being opened from the outside.
The arm is raised from the body, to accommodate for the rebate of the sash. Sash jammers come in both lockable and non-lockable options.
PATIO DOOR LOCKS
Retrofit locks, consisting of a sash and outer frame element, which engage and can be locked with a key or screw fixing to secure the door, providing additional security to the main lock.
Patio door locks come in a variety of forms to suit aluminium and PVC applications
Help & Advice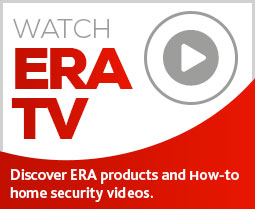 Subscribe to ERA news
Keep up to date with the latest home security news, products and updates with the ERA home Security newsletter.