Introduction
To further enhance security and provide a visual deterrent you may also wish to fit a security handle, which completely eliminates the risk of your cylinder being compromised.
Combine with a secure cylinder that clearly shows the BS Kitemark.
A video demonstrating this can be found in the 'how to' section of the website.
Step 1 : Door type
For different door materials it's common to need different screw and spindle lengths to accompany the handle (these are normally provided in the pack).
Generally for timber, composite and 60mm PVCu doors the 44mm screws and spindle is used; and for 70mm PVCu doors the 70mm screws and spindle.
Step 2: Measuring
When fitting a security handle please measure out the screw holes as shown in the diagram below:
Dimension A : Centre (92 mm Pz)
Measured from the centre of the keyhole/ cylinder to the centre of the spindle hole (centre of the lever).
Dimension B : Screw holes
Measured from the centre of the bottom screw hole to the centre of the top screw hole.
Dimension C : Backplate
Thickness of backplate.
Step 3 : Select and Installation
A useful video guide for installation is available in the 'How to' section of the ERA Expert website.
Help & Advice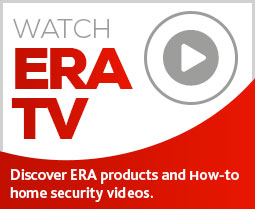 Subscribe to ERA news
Keep up to date with the latest home security news, products and updates with the ERA home Security newsletter.