Date: 26/10/20
It is always important to feel safe and secure in your home. Upgrading your home alarm system will go some way to creating that environment, but how much of a difference will a smart home alarm make to deterring and stopping criminals from entering your home?
At ERA, we understand home security systems and our range of smart home alarm products provide you with the most comprehensive solution to protect your home.
If a burglar is looking for a house that could potentially give them all the goodies they are looking to steal, they are likely to target a house that looks defenceless, aren't they?
Smart home security products come in the form of wireless alarm systems, video doorbells, sensors and cameras, all of which are easy to install, easy to manage and control and provide you with instant access to live feeds and data about how protected your home is at any given moment. A burglar will spot these home security products that you have installed and are therefore less likely to attempt a break-in. If they do, a good smart alarm system will kick into gear and alert you as to what is going on.
Take the next step in the evolution of home security by adding smart home security products from ERA to the layer of protection you have around your home. A burglar looking at your home as a potential target will always be put off if it is clear that your home has some form of home alarm system in place. Smart alarm products add an extra layer of efficiency and alerts to your own protection.
To find out more information, please feel free to contact the experienced ERA team on 01922 490 050 or help@erahomesecurity.com.
0 Comment
---
Blog Archives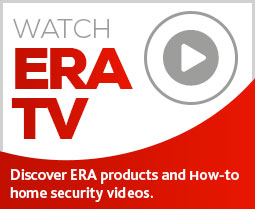 Subscribe to ERA news
Keep up to date with the latest home security news, products and updates with the ERA home Security newsletter.