Date: 28/09/20
With one system, one smartphone app and a wide range of home security capabilities, the ERA Protect Smart Security range brings you the ultimate peace of mind in your home. Technology has advanced so much in recent times and by using the smart security products from ERA you are at the forefront of home security solutions.
The simplicity of the ERA Protect smart range makes it incredibly easy to trust in. Everything, from the over-arching alarm system to the cameras and the app that you access on your phone, work seamlessly together. The hub is easy to install and is controlled by a simple family app that can be downloaded onto any smartphone.
Even if your Wi-Fi network is down at home, the dual path technology that ERA Protect smart alarm uses, ensures that the embedded 4G roaming SIM connects to the strongest available signal until your Wi-Fi network is back up and running. Put simply, you are covered at all times and your home will remain protected even in the event of a power cut.
With over 180 years of experience in the home security trade within the ERA team, you know that you can trust ERA Protect to do just that, protect you.
Trust plays a big part in who you purchase your home security products from. With ERA Protect you can see clearly how it has the highest accreditation for security systems of its kind and with the simplicity of use you'll have peace of mind that your home is safe, wherever you happen to be accessing the information. To find out more, speak to a member of the ERA team on 01922 490 050 or help@erahomesecurity.com.

0 Comment
---
Blog Archives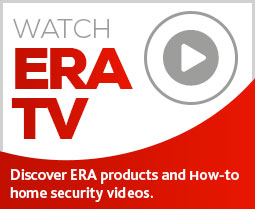 Subscribe to ERA news
Keep up to date with the latest home security news, products and updates with the ERA home Security newsletter.