Date: 14/09/20
The launch of the ERA Protect range brings you the best smart security system that you can find on the market today. With one system, one smartphone app and a wide range of capabilities, you have all of the tools and info you need to keep your home secure, all in the palm of your hand.
What are the benefits of ERA Protect?
Well, it's important to realise that ERA Protect is the first security system of its king to have the top-level accreditation for security standards (the BSI IoT Security Kitemark), so you know you are purchasing the very best in home security solutions.
Wherever you are in the world, you can easily access the smart security system from the palm of your hand through an easy to use app. Your smartphone allows you to access the alarm system, the cameras and all alerts linked to the system.
The system has a range of back up and other security features and is fully encrypted, even if you are accessing the system from the other side of the world. You have the peace in knowledge that your data and information is safe at all times, as is your home.
ERA Protect is the best way to keep your home secure, your family safe and to provide you with a sound sleep at night. There is a wide range of solutions within the ERA Protect range, all within one easy smart security system to use and manage, all through a smartphone app that you can check wherever you happen to be. It is a simple way to keep your home safe. To find out more, contact ERA on help@erahomesecurity.com or 01922 490 050.

0 Comment
---
Blog Archives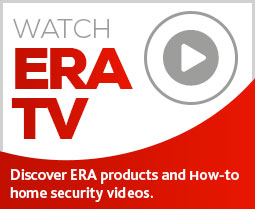 Subscribe to ERA news
Keep up to date with the latest home security news, products and updates with the ERA home Security newsletter.