Date: 16/09/19
Your home security should always be a priority, and at ERA Total Security we have a wide range of home security products and a team of home security experts that can help you choose the correct home alarms and smart security products to significantly improve your domestic security.
What are the reasons you should be looking to improve your home alarms system?
Protect Your Home - The major reason is to protect your home and family from intruders through the careful implementation of a home alarm system.
Protect Your Valuables – If you have items in the home that are of financial or sentimental value it is important that you have the home security products in place to protect them.
Peace of Mind – A robust home alarm system and smart security options provide fantastic peace of mind for you and your family, allowing you to sleep well at night, and not to worry about potential break-ins when you are away from home.
Lower Your Insurance Premiums – With a better home security system and smart security products you can help acquire a better home insurance option, with lower payments due to your dedication to home security.
Keep Tabs from Anywhere – With smart security products you can check on your home from any location, using a simple app on your phone to control the home alarm system, to view your front door and to analyse data.
Choose from our wide range of home security products, from door and window locks, smart security products (such as video doorbells), and full home alarm systems. For more information contact the expert ERA team on 01922 490 050 or help@erahomesecurity.com.
0 Comment
---
Blog Archives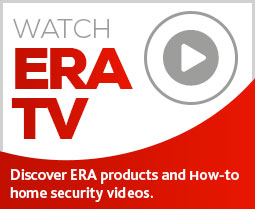 Subscribe to ERA news
Keep up to date with the latest home security news, products and updates with the ERA home Security newsletter.