Date: 25/02/15
Differentiating your fenestration is a tough challenge in today's climate but ERA has developed the ultimate homeowner guarantee that will enable retailers to really develop a unique sales opportunity surrounding the locking mechanism. It's called ERA Five Star Guarantee and is, without question, the UK's most comprehensive money-backed, home security guarantee.
ERA's focus has been to develop a hardware guarantee that has real, tangible benefits for the homeowner. This approach enables the retailer to confidently position the locking hardware as 'best in class' and this money-backed approach will undoubtedly resonate with the homeowner.
The ERA Five Star Guarantee incorporates £5000 worth of financial 'compensations' to the homeowner in the event of a break in due to the failure of an ERA component. Critically, the Guarantee also provides the homeowner with absolute peace of mind that in the event of a break in, the property will be secured and repaired with zero hassle.
Will Butler, group marketing director at ERA is confident that this approach will be a hit with fabricators and retailers, Will comments: "the challenge for any fabricator or retailer is to create as many points of differentiation to get their windows and doors into UK homes – so we've given our customers the ultimate weapon that will resonate with any homeowner looking to upgrade their windows and doors – who doesn't love a proper, financially backed guarantee? No hassle, no quibbles – just straight forward benefits that go straight into the pocket. Our job is to develop hardware and supporting collateral that really does assist the retailer in winning orders – we are confident that this Guarantee delivers exactly that."
The Five Star Guarantee includes:
Up to £1000 home insurance excess paid – if one of our components fails and results in a successful break in then we'll pay up to £1000 home insurance excess.
Up to £1000 towards a repair or replacement – exactly what it says – if an ERA component fails we'll contribute up to £1000 towards repair or replacement of that unit.
24/7 help – we recognise that a break in can happen at anytime so we're on the end of the phone 365 days per year, 24 hours per day to get the property secured.
Saving on the cost of home insurance – our recommended insurance broker recognises the value of ERA locking hardware so can save the home owner money on their insurance premium.
£1000 compensation – no quibble, no questions, just a cheque for £1000 for the inconvenience caused by a break in.
0 Comment
---
Blog Archives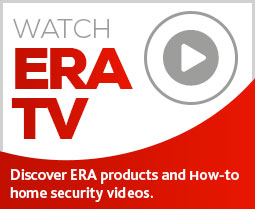 Subscribe to ERA news
Keep up to date with the latest home security news, products and updates with the ERA home Security newsletter.