Date: 15/08/19
Front door security should always be a primary concern of any household. At ERA we believe that your door security should be simple to install and easy to configure, whether you are looking to purchase smart home security products or a traditional front door security product.
We have a range of front door security products of the highest quality, including brand new locks, door barricades and smart video doorbell technology. We are happy to speak with you about your specific requirements to ensure that you are purchasing the correct product for your needs.
The installation process for any of our home security products should always be as simple as possible. It is a simple DIY process to install many of our front door security products, with assistance from our experts if required. Aside from that however we also provide an installation service.
Our network of installers utilises expertise in both traditional and smart security products, so whether you are in need of a professional to install traditional locks at your home, or set up a smart home alarm system you can find exactly what you need. You can choose from a list of approved ERA security installers that fit your specific product and installation needs.
For more information about front door security and home security products, or if you would like to know more about our network of installation specialists please feel free to contact the friendly ERA Home Security team today on 01922 490 050 or help@erahomesecurity.com.

0 Comment
---
Blog Archives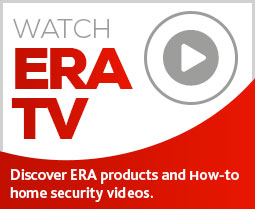 Subscribe to ERA news
Keep up to date with the latest home security news, products and updates with the ERA home Security newsletter.