Date: 30/08/19
There have been incredible technological advancements within the market of smart security products in recent years and if you are looking to upgrade your front door security with a new doorbell you might be considering whether you should choose a traditional doorbell or a new video doorbell with smart technology.
Sure, a conventional doorbell does exactly what it says on the tin – alerts you to the fact that someone is at your front door but think of the huge benefits to a video doorbell. You'll still be alerted to someone being at your front door but with smart doorbell technology you don't even have to be in your home to see and hear the person knocking at your door.
With a smart video doorbell, you can easily connect your video doorbell to the rest of your home security system. You'll be able to see whether a parcel has been delivered, look out at night on the live camera feed it you hear a noise from in bed, and check in on your property and front door security when you are at work or on holiday.
If you would like to find out more about the ERA range of smart doorbells and smart security products, or you would like us to help you install your brand new video doorbell, please feel free to contact our friendly team of home security experts today. You can chat to us by calling 01922 490 050 or email help@erahomesecurity.com and we'll return to you at a convenient time for you.
0 Comment
---
Blog Archives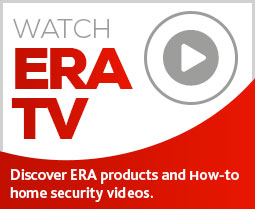 Subscribe to ERA news
Keep up to date with the latest home security news, products and updates with the ERA home Security newsletter.