Date: 23/03/20
ERA knows home security inside out. For the last 180 years the ERA team has provided a total security solution for countless households throughout the country. We have been leading the home security sector for 175 years, providing a continued drive of innovation in manufacturing and design of products that provide a foundation of security and peace of mind for homeowners.
Since 1838 ERA has been protecting your home – and we will continue to do everything we can to keep on improving our home security solutions to keep future generations safe.
What we deliver to you for the here and now, and for the near future, is a range of home security products that have been highly researched and developed. Whether you are looking for home security hardware, such as window and door locks (we have our Fab&Fix Range) or you are looking to utilise the latest in smart home security solutions (you can purchase smart wireless alarms or smart doorbell cameras to keep you connected) our team can help you.
For our existing customers looking for a home security upgrade, welcome back. For those of you thinking about purchasing a home security product for the first time, you are in the right place. Our team of home security experts understands what makes a house safe. If you are looking for guidance, we'll be more than happy to run through our entire range of home security products, ensuring you have the right type of product or overall home security alarm system that suits your home, your needs and your budgets.
For more information please feel free to discuss things with the home security experts here at ERA. You can do so today on 01922 490 050 or email help@erahomesecurity.com.

0 Comment
---
Blog Archives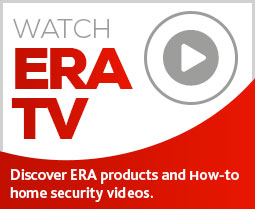 Subscribe to ERA news
Keep up to date with the latest home security news, products and updates with the ERA home Security newsletter.