Date: 16/03/20
Upgrading your home security solutions should always include a thorough research period and a complete understanding of what it is you actually need, what fits with your budgetary needs, and how you are planning on installing your new home security products.
At ERA we have a wide range of hardware and Smart home security solutions and we understand that there is always a question over the most suitable way to install the security products. Although there are certain products that are a lot smaller, lightweight and easier to install than they would have been in the past, we have created a network of professional installers to help you fulfil your needs and be as secure as possible from the first moment of installation.
Our Security Installers network is designed to give you complete peace of mind when it comes to choosing a home security product from our extensive range. Receiving expert advice from a team of home security installers with an in-depth knowledge of the industry, both hardware and Smart Security products, means that you know your home will be safe immediately.
Traditional Hardware Experts – For those of you looking for experts in security hardware, our range of installers can visit your home to securely install window locks, chains, padlocks, window child safety devices and other types of high security locks.
Smart Security Experts – Our range of smart security product installers provide professional help in installing Smart Security products. They will ensure you are fully connected to cloud-based security and provide guidance on how to effectively utilise smart technology to boost your home security.
If you would like to find a home security installer it is easy. All you have to do is fill out our simple find an installer form and selecting from a list of our approved installers that can be found in your local area. For more information about our other home security products, you can speak to the ERA team today on 01922 490 050 or email help@erahomesecurity.com.

0 Comment
---
Blog Archives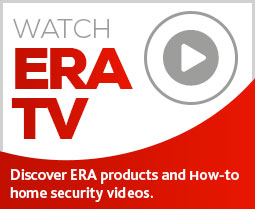 Subscribe to ERA news
Keep up to date with the latest home security news, products and updates with the ERA home Security newsletter.