Date: 24/06/19

There are many different configurations that you can choose from when putting together home security systems. Whether you wish to upgrade your door and window locks, add home security cameras, or install complex home alarm systems that cover all aspects of your home and integrate smart technology, the team at ERA can help.
The best course of action is to sit down and discuss your current home security system with an expert in the field. From there you can quickly come to appreciate where your home security is strong and where it could be improved.
At ERA we have a wide range of home security systems and alarms, from physical locks for windows and doors, to smart technology in the form of smart video doorbells and the like. We can also advise and supply you with fully home security alarm systems, both wired and wireless to provide full coverage of your home, inside and out.
It is important that home security is thorough, effective, but within your budget, and once you know what you need we can help you choose the correct home security system to fit your specific needs and budget.
If you would like to start the journey of upgrading your home security systems please feel free to contact the ERA team today. We are always happy to sit down and discuss your current home alarm systems and which areas could do with improving. You can arrange a conversation with us by emailing help@erahomesecurity.com or call us on 01922 490 050.
0 Comment
---
Blog Archives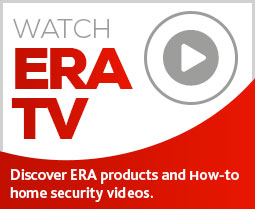 Subscribe to ERA news
Keep up to date with the latest home security news, products and updates with the ERA home Security newsletter.