Date: 14/06/19
Home security encompasses many different aspects and products. At ERA we have a wide range of home security products that can help you to bolster your home security and bring you the ultimate peace of mind. One area in which home security products have vastly improved in recent years is with the smart doorbell.
The installation of a smart doorbell will make a significant impact on your ability to improve your home security systems. The first thing to comment on is that they are incredibly easy to install, and to link up with your home Wi-Fi network and any other smart tech you have running at home.
In terms of adding that layer of security to your front door that just wasn't possible a few short years ago, a video doorbell gives you extra coverage. Through an easy to use smartphone app, you can view live video feed of your front door area, answer the door to strangers whether you are upstairs at home, at work, or on holiday.
Having the ability to easily view video feeds and footage with your smart doorbell that is stored securely in the cloud, makes your home security systems much more secure.
If you would like to find out more information about smart doorbells and how easy they are to install at your property, the ERA team are here to help. We have a range of expertise in all things video doorbells and smart home security. Email us at help@erahomesecurity.com and we will return to you at a convenient time, or call us right away on 01922 490 050.

0 Comment
---
Blog Archives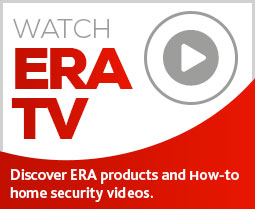 Subscribe to ERA news
Keep up to date with the latest home security news, products and updates with the ERA home Security newsletter.