Date: 14/01/19
At ERA we are always keen to look for new ways in which we can add value to the home security sector. As technology has improved, so to has the ability to improve the security of your home, without it being bulky, aesthetically detrimental to your home, or costly. One area that has improved significantly in recent times is the doorbell.
The doorbell was previously a functional item only, alerting you when someone was at your front door. With video doorbells from ERA, your home security could be completely revolutionised.
Flexible Use
ERA offers the DoorCam Smart Video Doorbell that enables you to answer your front door from any location. Using just your smartphone you can view HD video of the person at your front door. Whether you are in your back garden, kitchen, at work, or on holiday in a different country, you can see exactly what is happening at home.
Two-Way Audio
Not only can you hear the caller, they can bear you. This ensures that you can have a conversation with a person at your front door and ascertain whether they are a threat or not. If you are away on holiday this is ideal if someone is at your door claiming to be delivering a package. It could be a potential intruder scoping your home.
Weatherproof and Simple Installation
The compact doorbell unit is dust and watertight, operating in all types of weathers and extreme temperatures. It is easy to install, unlike some traditional home alarm systems that were cumbersome and an eyesore.
For more information about upgrading your home security system contact ERA today on 01922 490 050 or email help@erahomesecurity.com.

0 Comment
---
Blog Archives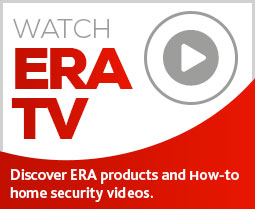 Subscribe to ERA news
Keep up to date with the latest home security news, products and updates with the ERA home Security newsletter.