Date: 21/01/19
When you think of home security your mind will first head towards the all-encompassing home alarm systems, maybe security cameras, or the modern smart technology that connect all types of alarm systems within your home. One way to ensure your home is completely secure, however, is to utilise the traditional aspects of home security, in the form of a strong lock.
ERA has a wide range of high quality window locks and door locks available for you to bolster your home security. We cater for all windows and doors, as well as outbuildings. If you are looking for the strongest possible lock for your front door, we offer a range of ERA Invincible Locks.
For windows, we provide window restrictors where there is a need for only a small window opening. This helps to allow fresh air into the building, whilst deterring intruders and maintaining safety for vulnerable individuals inside. It is the perfect window security for a home housing a young family, as the restrictor is child-resistant.
If you have a garage, shed, or other outbuilding that stores expensive or delicate equipment you want to ensure that the doors and any other entrances are secured overnight or when you are away from home. We offer a range of sturdy and robust padlocks for you to secure your items.
Your home security is vital. By adding locks to your windows and doors, as well as outbuildings, you are adding peace of mind with another level of home security. If you would like to find out more about our wide range of window locks, door locks and padlocks, please feel free to browse our website, or contact a friendly member of the team on 01922 490 050 or help@erahomesecurity.com.

0 Comment
---
Blog Archives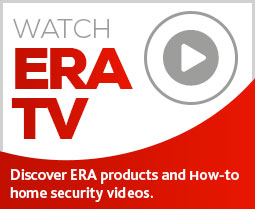 Subscribe to ERA news
Keep up to date with the latest home security news, products and updates with the ERA home Security newsletter.