Date: 15/07/20
Once you have decided which of the amazing ERA home security products that you want to purchase, the next question is whether to self-install or to find a professional security installer to fit the new products in your new home and to show you what's what – the best ways to use the product to maximise its effectiveness.
We understand that it can be stressful to make the choice over whether to attempt self-installation of home alarms and other security products or whether to hire a professional to do so. It doesn't matter whether it's fitting a lock on your front door, a night latch on the kids bedroom window, a video doorbell or a full home alarm system, it can be daunting if you don't really know what you're doing.
That's why we have taken the time to develop a network of professional security installers that will give you peace of mind. There are often little tricks and hints for specific products and models and with a professional installer you know for sure that the product will work effectively from day one, and you'll have someone to show you how it works.
Finding a professional security installer with ERA
If you would like to find a professional home alarm installer to help you get set up with your new products at home, we can provide you with access to experts in your area. It's easy to do so, with a simple form that allows you to choose whether you need help with a traditional mechanical product or a smart home security product. From the list of installers, you can either contact them yourself, or we can do it on your behalf and set the process up.
If you would like to speak to our friendly team about this process in further detail, or you would like to talk with us about any of our wide range of home security solutions, contact us today on 01922 490 050 or email help@erahomesecurity.com.

0 Comment
---
Blog Archives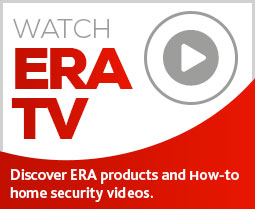 Subscribe to ERA news
Keep up to date with the latest home security news, products and updates with the ERA home Security newsletter.