Date: 11/02/19
Home security should never be dull aesthetically. Obviously the main priority of a home security product is to maintain a high standard of security in every fixture and fitting, but 30 years ago we launched our Fab & Fix range to ensure that the finer details of decorative hardware were part of the conversation when our customers were looking to upgrade their home security systems.
Fab & Fix provides colour, style and surface finish, matching with a wide range of applications and styles. It is designed with elegance in mind, having an impact on the overall design and feel of a property, whilst maintaining state-of-the-art functionality when used in conjunction with our other home security products and services.
You can choose between:
Classic
The classic Fab & Fix products provide a clean timeless style that suits any type of home and aesthetic. This style is perfect for modern homes with modern appliances and smart technology.
Heritage
For period and traditional homes, the heritage Fab & Fix range are perfect for big oak doors, traditional cottages and historic buildings. It helps you stand apart and provides a touch of elegance.
Architectural
Our hardware range offers sleek and contemporary functionality. It helps to add a sophisticated style to a modern-style property, helping to put the icing on the cake.
S-Series
If you are designing or upgrading your ultra-modern home, and taking advantage of our wide range of smart home security technology, the S-Series is the perfect accompaniment. From sleek stainless steel bar handles to a wide range of matching accessories.
We'll never compromise on quality, and neither should you. For more information, speak to a member of the ERA team about our Fab & Fix range of products. Call 01922 490 050 or email help@erahomesecurity.com.

0 Comment
---
Blog Archives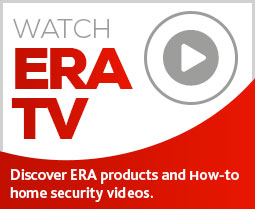 Subscribe to ERA news
Keep up to date with the latest home security news, products and updates with the ERA home Security newsletter.