Your search for 'vck u23 châu á 2020【0242.com】lịch thi đấu vòng loại world của việt nam' found 14 results.
---
CURRENT COMPETITION ERA Protect FloodCam Competition November/December 2020 One lucky winner can win 1 x ERA Protect FloodCam in November/Decembers Facebook & Instagram competition. To enter the...
View Social Media Competitions T&Cs
---
ERA Gender Pay Gap Report ERA continues to drive the innovation that underpins home security. With over 175 years of manufacturing, design and innovation, we have been firmly at the heart of securing Britain's homes since...
---
ERA has chosen to support two nominated charities for 2022, Shelter and Mind. Shelter helps all those whose lives are blighted by the loss of their home. Formed in 1966 in response to the country's massive housing...
---
What is IoT? IoT stands for 'Internet of Things' which characterises the demand for more and more products to be 'connected'. It's the network of those 'smart' connected devices, people and systems and...
View IoT Kitemark - ERA Protect
---
When creating a beautiful and stylish home, details are everything. Fab&Fix decorative hardware perfectly matches across the range – not just in colour, but in form as well. Five years in development, the Fab&Fix Hardex Electro...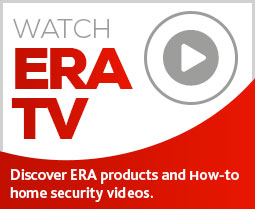 Subscribe to ERA news
Keep up to date with the latest home security news, products and updates with the ERA home Security newsletter.