ACCESSORIES
The term used to describe products usually in addition to basic security that help to upgrade your home security
BATHROOM DOOR LOCK
A type of Mortice lock featuring a thumbturn facility which is used to lock the door from inside
CASEMENT WINDOWS
Opening window, sash hinged along one edge
CILL/ SILL
The lower horizontal part of the window/ door outer
DEADLOCK
A key operated Mortice lock that "deadlocks" when operated. It does not have a handle or latch
DOOR CHAIN
Allows the door only to be part-opened to see who is there
DOOR SECURITY BOLT
A bolt fitted into the door which can only be opened from one side with a splined key
DOOR VIEWER
Or "spy hole", lets you see who's at the door without opening it
DOUBLE GLAZED UNIT
Two panes of glass, sealed around the edge, with an (DGU) air gap between, also known as 'sealed unit'
DOUBLE LOCKING NIGHTLATCH
Offers additional security than a standard Nightlatch as the main lock to it automatically deadlocks. Provides high security, particularly for doors with glass panels.
DUAL SCREWS
Suitable for most sash and sliding windows
ESCAPE/ EGRESS
A means of exit in an emergency
EXTRUSION
Shaped PVC-U. Usually refers to PVC-U shaped to form window framing components, also known as 'profile'
FABRICATOR
A company or person who assembles windows or doors
FIXED LIGHT
Non opening part of the window FRAME The peripheral structure of a window or door
FRICTION HINGE/ STAY
A mechanism with inbuilt friction functioning as a hinge for casement windows
GLAZING BEAD
Part framing system which holds the DGU in place
HARDWARE
Components and assemblies which enable windows/ doors to be assembled and operated correctly; collective word for items such as hinges, locks, handles, etc.
LAMINATED GLASS
Particularly strong type of 'safety glass' comprising of two layers of glass bonded together with a tough plastic film
LEVER (LOCKS)
Levers are used in Mortice locks. The more levers, the higher standard of security provided
LEVER (DOOR HANDLES)
The moveable part of a door handle is sometimes referred to as a lever. Where it states lever/lever it refers to the door having handles with levers both sides of the door (internally and externally). Lever/ Pad has a lever handle on the inside and a pad handle on the outside.
MULTI-POINT LOCKING (MPL)
A mechanism that restrict linear or rotational travel in doors and windows Locking points are multiple i.e. hooks, deadbolt, rollers, mushrooms, cams
MORTICE LOCK
Recommended for all external doors, particularly 5 Lever British Standard which offers high security
NIGHTLATCH
Suitable for front and back doors, featuring a latch that holds the door shut
PROFILE
PVCu shaped to form window framing components, also known as 'extrusion'
PVCu
Plastic material used to make a wide range of products, including windows doors
REINFORCEMENT
Lengths of steel or aluminium inserted into the profile to stiffen and strengthen it
REPLACEMENT CYLINDER
Simply replaces the centre lock section of a Nightlatch. An easy way to "change to locks". RESIDENTIAL A domestic building or where people reside
RESTRICTOR
A device that reduces movement of a window or door from the maximum possible
RIMLOCK
This is fitted to the surface of a door - often used on shed and garage doors and older/cottage style doors
SAFETY GLASS
Type of glass, such as laminated or toughened (tempered) glass which breaks in such a way so as to reduce the risk of injury
SASH
The opening or moving part of a window or door SASH JAMMER The ideal lock to secure most PVCU casement and transom windows
SASHLOCK
A "deadlock" with the addition of a latch mechanism, used with a handle
SECONDARY GLAZING
An extra layer of glazing, fixed to an existing window (normally an existing single-glazed window), this is not 'Double glazing' because it does not use double glazed units
SIDE HUNG
A casement window with a hinge or hinges fitted to one vertical side
SNAPLOCK
Another good security option for wooden casement, transom and pivot windows. It automatically "snaps" locked when the window is closed
SNIB
A button on a Nightlatch that is used to hold the latch back
SPLINED KEY
A standard key with grooves in it, used with door security bolts
STAYLOCKS
Designed to fit through the holes on a casement window catch
SWING LOCK
Ideal for most wooden casement, transom and pivot windows
THUMBTURN
A small knob used to operate a bolt
TILT AND TURN
Type of opening window, which hinges at the side and the bottom and can thus be opened in two different ways
TOP HUNG
A casement window where a sash is hinges so to rotate about the top sash rail
TRICKLE VENT
Small opening through window frame, which can be opened to allow ventilation
TUBULAR LATCH
Used with handles and knobs on internal doors
WINDOW
A purpose made frame glazed and for fitment to a building or structure
WINDOW LOCKS
Locks specifically designed to secure a wide range of windows
WINDOW STAY
A device which enables a user to open a window and retain it in a desired position
VENTILATOR
Small opening sash
Help & Advice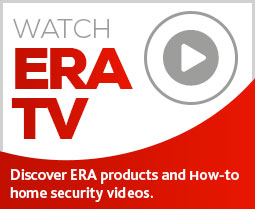 Subscribe to ERA news
Keep up to date with the latest home security news, products and updates with the ERA home Security newsletter.