Introduction
Burglaries can happen at any time of the year – day or night, but holiday periods are often the time when we think about home security a little bit more. With a few simple adjustments to your home security you can significantly reduce the odds of your house becoming rich pickings for a chance burglar.
These simple tips will give you peace of mind when you hop onto that plane:
Stand outside your house, front and back, and view your property through the eyes of a burglar. Look for obvious entry points and 'blind' spots away from neighbours or security lights.
Most properties in the UK now have tall wheelie bins – ensure that these aren't left under windows or next to fences where they could be easily used to climb over a wall or fence.
Start by looking at your glazing – in both doors and windows – if you've got faulty glazing or externally beaded windows, make sure faults are replaced or consider replacement windows in vulnerable areas.
Still, the vast majority of break - ins in the UK are through doors – not windows, so look at every door and consider whether it could be easily opened by an intruder. If you can easily do it – chances are a burglar will have it open in half the time.
Always keep your real valuables out of sight. You're not likely to hide your TV away, but be mindful of what's really important to you and keep it hidden. Burglars are great at finding all the obvious hiding places – so be creative.
Never leave spare keys in 'hiding' places such as under mats, plant pots. If you need to leave a spare key somewhere safe – leave it with a neighbour or friend. Insurance companies are very unlikely to pay out if it's clear a key was used to gain entry.
Never disclose your alarm code to anybody – or if you need to give it to a cleaner or tradesmen – make sure you change it afterwards. General rule of thumb – trust no one!
Invest in plug - in timers for your lights – but vary them across the house. All lights going off at precisely 10.30pm is a bit of a giveaway.
If you're leaving your driveway empty while you jet off to the sun – perhaps ask a neighbour to park on your drive while you're away.
If you leave wheelie bins out for collection – ask a neighbour to bring them back in.
Invest in the best security that you can afford; often the cost is minimal compared to the increased level of quality in security. High - security external locks, such as nightlatches that automatically deadlock on closing and Fortress mortice locks with 5 - levers to conform to British Standards really do provide the highest level of security available for the home – which is why they are recommended by crime prevention professionals and insurance companies.
You should also invest in a few items of additional security for doors and windows. Snaplocks that can be easily added to wood, metal or PVCu windows automatically lock on closing, and patio door locks will help to strengthen security at the back of the house. These are all readily available in DIY stores, can be fitted in minutes and will be seen as a deterrent by a would - be burglar.
Help & Advice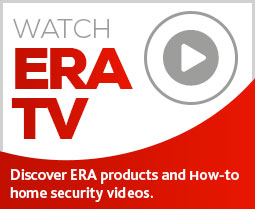 Subscribe to ERA news
Keep up to date with the latest home security news, products and updates with the ERA home Security newsletter.