Date: 15/05/19
The ERA DoorCam WiFi Doorbell Camera has been designed to help the modern household improve home security to greater levels than ever before. With a smart video doorbell you have the ability to answer your door wherever you are in the world – whether you are upstairs in bed at night or on holiday in another country – providing ultimate peace of mind.
One of the biggest benefits of the DoorCam is that it comes with cloud storage as standard, with free cloud recording for 12-months. What this means is that through an easy to use DoorCam App that you can access via your phone you have access to a Live View in crystal clear 720pHD video.
With cloud storage and smart technology the ERA DoorCam Video Doorbell is easy to install, can be powered using your current doorbell or even plugged directly into a wall socket. Through a simple process of connecting to your home Wi-Fi network, your video feeds are saved in the cloud, ensuring that you never miss a second of what's going on at your door, no matter where your location. What this also means is that in future should you need to check on something that you may have missed, there is no worry that something has been accidentally deleted or reached its cut off point and removed from the system.
For more information about the ERA DoorCam and how we can help you improve your home security through smart technology and cloud storage contact the team by emailing help@erahomesecurity.com or by calling 01922 490 050.

0 Comment
---
Blog Archives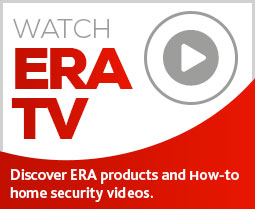 Subscribe to ERA news
Keep up to date with the latest home security news, products and updates with the ERA home Security newsletter.