Date: 29/04/19
Front door security is so important to any home, and with our Invincible Door Security System you can ensure that you have the greatest levels of security open to you through traditional means. With its robust shape and reinforced design we can help you make your front door invincible.
Our team of experts are consistently testing a wide variety of door security products in order to ensure that the products we deliver are of the highest quality. The standard three star euro cylinder lock is one such example of where improvement can be made. Our Invincible lock is reinforced with five times more metal than a standard cylinder lock, meaning that no matter how hard a burglar tries to break it, the front door lock is impossible to snap.
On top of that, the robust design makes for a real deterrent to potential criminals. With 6 hardened high security pins you'll have a front door lock that is anti-pick, anti-bump, and anti-drill. Our testing is checked to the UK gold standard for door security, being able to withstand over 15-minutes of sustained attack without using a sacrificial section. Even if an intruder has tried to force the front door and given up, you'll still be able to use your key to open the front door.
If you would like help in making your front door security invincible please feel free to speak to a friendly member of the ERA team. We are always happy to offer expert advice and guidance. Speak to us by calling 01922 490 050 or by emailing help@erahomesecurity.com.
0 Comment
---
Blog Archives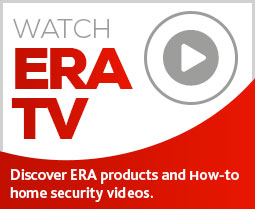 Subscribe to ERA news
Keep up to date with the latest home security news, products and updates with the ERA home Security newsletter.